The version 2.1.0 of iTop is now ready for production.
What's new in 2.1.0?
Version 2.1.0 of iTop has a number of changes "under the hood" as well as a few usability enhancements to make iTop easier to use and customize.
Data model format enhancements
We've bumped the version number of iTop to 2.1 because of a number of small, but significant, changes to the data model format (the version number of XML files changes from 1.0 to 1.1).
iTop 2.1 is, of course, fully capable of reading data model files in the previous format, but the new format brings a number of enhancements to make the customization of iTop easier and more fined grained.
For more information about the changes to the data model format, click here.
If you customized iTop, have a look at the migration notes.
Excel Export
Forget the tedious "Text to columns" conversion of CSV files; open your iTop data into Excel in just one click.

or more information about the Excel export, click here.
Easy backup and restore
Your iTop data is valuable, but you don't know how to backup it? By default an automatic backup is scheduled everyday at 23:30, keeping 5 days of history on your disk; and you can create or restore a backup of iTop in just one click.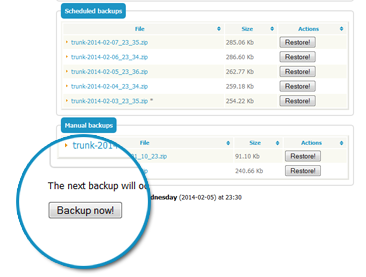 For more information about how to use and configure the backups, click here.
Configuration Editor
Editing the configuration file is now quick and easy: no need to connect to a remote server and use a command line text editor. Administrators can now edit the iTop configuration file directly from within their browser.
For more information about the configuration editor, click here.
Two new localizations: Dutch and Danish
Remie Malik fromLinprofs, made the Dutch localization: vrolijk kerstfeest !
Erik Bøg for Aarhusvand made the Danish localization: Glædelig jul !
Many thanks to Remie and Erik!
Bug fixes
We are working hard to make iTop better and even more stable. This release contains about 80 bug fixes.
For a complete list of fixes, have a look at the README file.
How to upgrade?
Install iTop into a new directory and run the installation wizard to upgrade to the new version.
Feel free to download and install iTop 2.1.0, if you like the application don't hesitate to give us a 'Thumb up' on SourceForge!