After an extensive summer of testing and fine tuning, the version 2.2.0 of iTop is now available for production, so don't hesitate to download and install it.
What's new in 2.2.0?
We've done a little bit of polishing on the look of the application and added a number of enhancements related to the management of Configuration Items (CIs).
New look
As you may have noticed in this message, the iTop logo has changed. The look of the application has been slightly refreshed. It is a bit cleaner and more "flat" but the changes are minimal so that iTop retains its familiar look and feel.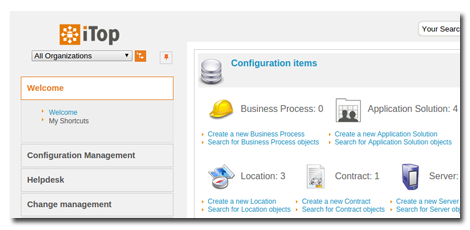 Relations and Impact Analysis
The internal engine to compute the impact analysis has been completely redesigned. iTop is now capable of handling redundancy (for Farms or Power Supplies) and can take into account all the open tickets at a given point of time to compute the true impact of an Incident or a Change. The display of relations can handle a large number of CIs thanks to automatic grouping. Last but not least, the graph can be exported as a PDF document.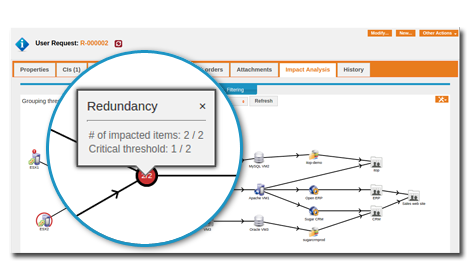 Enhanced Export
The interactive export has been completely reworked. Pick the columns you want to export, arrange them in the order of your choice and get your export in either CSV or Excel format or even as a PDF document. More information about the new export formats is available on the wiki.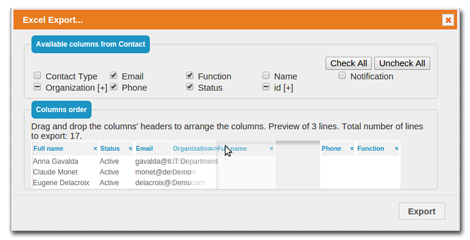 Pretty printing
From the details of an element, click on "Printer friendly version" from the "toolkit" menu to display a new view of the element optimized for printing. For a perfect printout you can configure which section of the details you want to show or hide before launching the actual print.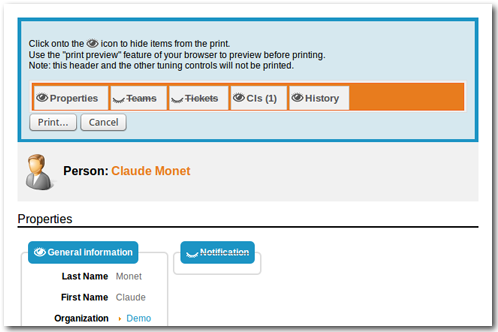 And much more...
iTop 2.2.0 also brings some significant performance enhancements to make the application more responsive, an optional locking mechanism to prevent concurrent editions and more than 50 bug fixes...
For a complete list of changes, have a look at the README file. Developers may look at the migration notes to adapt their code to this new version.
How to upgrade?
Let us guide you: step by step upgrade instructions are available on the wiki.
Localization
Mluvíte česky? Thanks to Lukáš Dvořák and Daniel Rokos from Global Solutions, iTop is now translated in Czech.
What's next?
The next version of iTop is planned for the beginning of 2016. Until then we hope that you will enjoy this version. Your feedbacks on the iTop bug tracker and the SourceForge forums are very welcome.
Feel free to download and install iTop 2.2.0, if you like the application don't hesitate to give us a 'Thumb up' on SourceForge!